Try 3 great ways to reinvent your roasted vegetables
Roast carrots and parsnips with hazelnut dukkah
These Middle Eastern inspired roasted root vegetables combine dukkah, hazelnuts and maple syrup for crunch, sweetness and depth of flavour.
SERVES: 6
COOKING TIME: 40 – 50 mins
DIFFICULTY: easy
IDEAL FOR: Christmas, Sunday roast
BUDGET: £
Ingredients
500g carrots
500g parsnips
2 tbsp olive oil
30g hazelnuts, roughly chopped
2 tsp coriander seeds, crushed
2 tsp sesame seeds
4-5 fresh thyme sprigs
2 tbsp maple syrup
Method
Trim the carrots and parsnips, then halve lengthways and put in a large baking tray. Toss with the olive oil and roast at 200°C/180°C fan/gas 6 for 35-40 minutes until cooked and golden.
For the dukkah, combine the hazelnuts, coriander seeds and sesame seeds.
Remove the veg from the oven and toss with the thyme sprigs, maple syrup and dukkah. Return to the oven for 5-10 minutes until golden and lightly charred.
Recipe from Delicious Magazine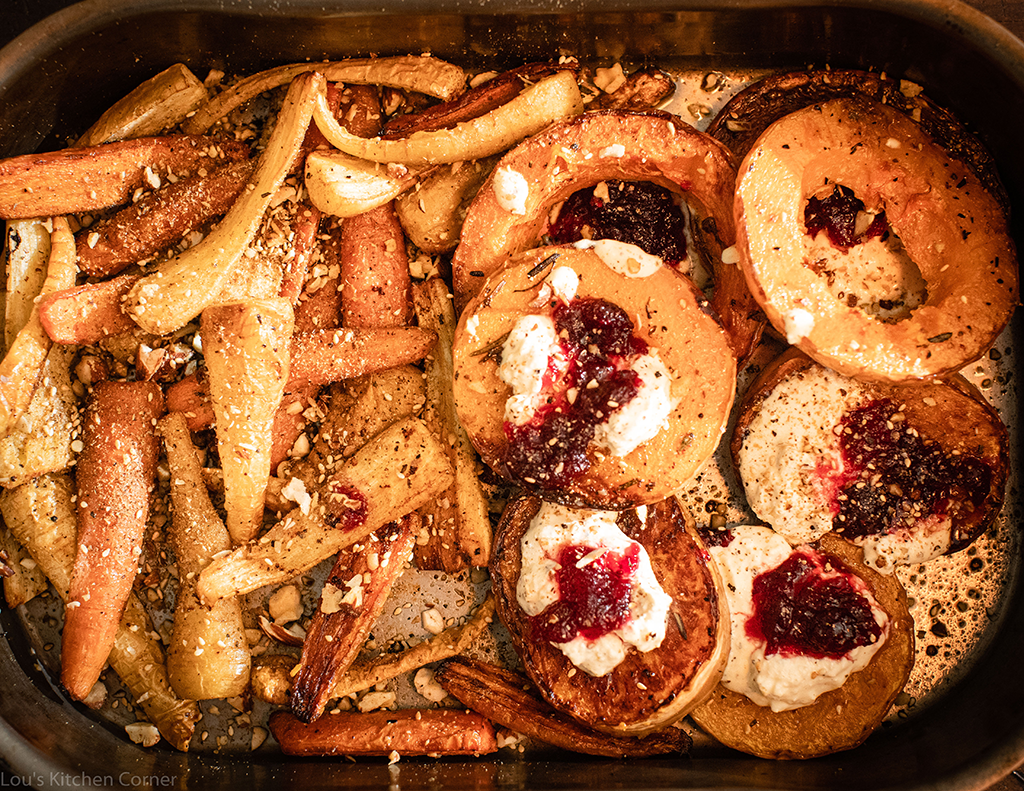 Roasted veggies… and pop the Xmas Brussel sprouts in there 😉
SERVES: 4
PREP TIME: 5 mins
COOKING TIME: 25 mins
DIFFICULTY: easy
IDEAL FOR: Christmas, Sunday roast
BUDGET: £
Ingredients
INGREDIENTS
350 g Brussel sprouts, trimmed and halved
2 large carrots, peeled and sliced into 1/2" pieces
2 tbsp. extra-virgin olive oil
1 tbsp. balsamic vinegar
1 tsp. chopped rosemary leaves
1 tsp. chopped thyme leaves
Sea salt
Freshly ground black pepper
1/2 c. toasted pecans
1/2 c. dried cranberries
Method
Preheat oven to 200 ° C/ 400° F.
Scatter vegetables on a large baking sheet. Toss with oil, balsamic vinegar, rosemary, and thyme. Season with salt and pepper.
Bake for 20 to 25 mins, until the vegetables are tender, shaking the pan halfway through.
Before serving, toss roasted vegetables with pecans and cranberries.
Recipe from Delish
Roasted brussels sprouts with pancetta and garlic croutons
SERVES: 4
PREP TIME: 5 mins
COOKING TIME: 25 mins
DIFFICULTY: easy
IDEAL FOR: Christmas, Sunday roast
BUDGET: £
Ingredients
450 g brussels sprouts
2 slices rustic country bread
56 g pancetta, chopped
2 tbsp olive oil
1 large shallot, finely chopped
1 fat clove garlic, smashed
Salt and pepper
1/3 cup grated Parmesan (optional)
Method
Heat the oven to 220° C/425° F. Trim and quarter the brussels sprouts (halve them if they're small).
Tear the bread into rough crumbs about 1/3 inch in diameter; you'll need about 1/2 cup.
In an ovenproof pan, fry the pancetta over low heat until crisp.
Add 1 tablespoon of the olive oil to the pan, and over medium-low heat soften the shallot.
Add the garlic and cook for another minute.
Turn the heat up to medium and add the bread, stirring to coat them in the oil. Cook for a couple of minutes, or until they start to brown and become croutons.
Tip all the ingredients onto a plate with a paper towel.
Now, add a little more oil into the same pan, if needed, turn up the heat to medium-high and add the sprouts. Cook for a few minutes until they sizzle and start to brown.
Add everything back in and mix together, and season with salt and pepper, then transfer the pan to the oven.
Cook, stirring once or twice until the sprouts are just tender – approx. 10 mins.
Serve and grate Parmesan over (optional)
Recipe inspired by Food52