A perfect autumnal picnic addition or on-the-go-snack.
SERVES: 8
PREP TIME: 30 mins
COOKING TIME: 10 mins
DIFFICULTY: not too tricky
IDEAL FOR: snack, picnic
BUDGET: £
The scotch egg
Scotch egg memories
I think everyone has fond childhood memories of the classic scotch egg.
I always had one packed in my lunch at least once a week during Primary school.
And it was always a complete mystery to me how Mum managed to get the egg inside the meat casing.
She was a bloody magician!
Scotch egg – the comeback kid
Fast-forward to London, now a 'grown-up', I discovered scotch eggs had a resurgence.
But what took me by complete surprise was the day I went to a new Peckham Rye market.
Where I decided to kill my hunger pangs with a cheeky little scotch egg.
"That'll be £4 please"… WTF?!!?
When did this simple, Primary school treat suddenly become a luxury item?
I was not impressed and went straight to Lidl's to find a sticky-bun for 50p.
Order was restored.
So where did the Scotch egg come from?
Not Scotland, if that's what you were wondering.
From the research I've done, no one really knows where they originated.
But there are certainly a number of good stories which are out there.
One version claims the Scotch egg was the northern version of a Cornish pasty.
Easily transportable lunches, just like the pasty, for the working class.
The opposite version to this, is that it came from Fortnum and Mason; a luxury London department store.
They laid claim to the Scotch egg in 1738 as a luxury snack for the upper class.
They could eat a Scotch egg as they travelled out to their country homes (nice for some ;).
Nowadays, they have definitely reached gourmet standards with all sorts of flavours… and often a mighty price tag.
But they're still a firm favourite of mine and my family as a snack and a great picnic addition.
The picnic
The word 'picnic' seemed to come about in the 17th-century from a French word.
A 1692 edition of Origines de la Langue Françoise mentions 'piquenique'.
It's meaning; to describe a group of people dining in a restaurant who brought their own wine.
Which then (somehow) become to mean a meal that everyone contributed to.
It was then in the mid-1800s, that the picnic became a common English word.
And they become a favourite pastime of the aristocracy.
With their summer–society-season which seemed to revolve around picnicking.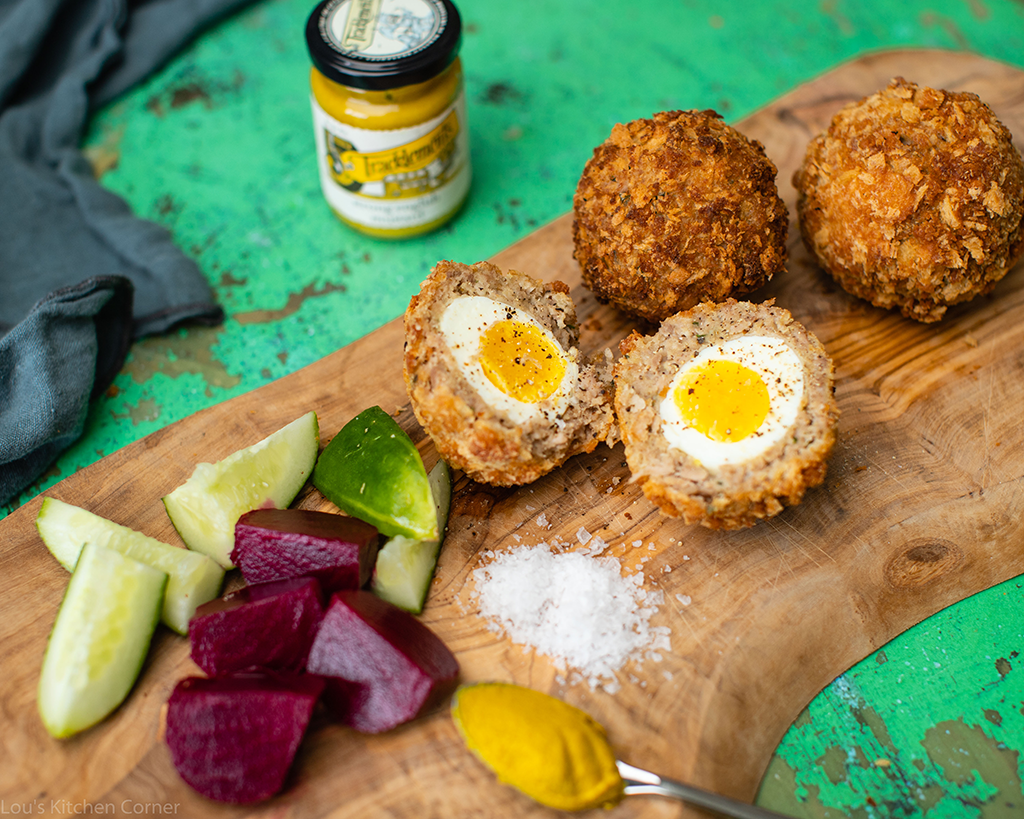 I don't have a summer-society-season but I guess we're pretty social.
And we do love a picnic to go off and enjoy in a London park or a beach in South Devon.
We also pack a Scotch egg when we set off on a long journey to visit family.
So, I now know the secret to Mum's wizardry of getting the egg in the middle.
Why not give it a go yourself… it's simple and of course, impressive.
Abracadabra!
Scotch eggs
Ingredients
10

large free-range eggs

8

higher-welfare sausages

1/2

bunch fresh chives

1/2

bunch of fresh flat-leaf parsley

1

whole nutmeg , for grating

1

tbsp

English mustard

plain flour for dusting

150

g

fresh white breadcrumbs

2

lt

vegetable oil
Instructions
Into a pan of cold water, add the 8 eggs and bring to the boil. Boil for 3 to 4 minutes.

Then transfer to a bowl of cold water. Once cooled, carefully peel them.

Squeeze the sausages out of their skins and into a bowl.

Finely chop the fresh herbs and add to the sausgae meat with the mustard, a good pinch of salt and pepper and a good grating of nutmeg.

Mix well and then make 8 balls.

Next, line up 3 plates – 1 with a handful of plain flour, 1 with the 2 eggs (beaten) and the last with the breadcrumbs

Flour your hands and in the palm of one hand, flatten one of the sausage balls into and oval-shaped pattie.

Roll a peeled egg in flour, then pop it in the middle of the patty Gently shape the meat evenly around the egg, moulding it with your hands until sealed.

Now, roll the meat-wrapped egg in the flour, shake off any excess, then dip into the beaten egg, followed by the breadcrumbs. Roll in the egg and breadcrumbs again for a really good coating.

Heat the oil in a deep pan (or deep fat fryer) to about 150ºC/300ºF (use a cooking thermometer if you have one). Otherwise, test if the oil is hot enough by adding a piece of raw potato and leaving it for about 1 minute – if it sizzles and browns, it's ready.

Carefully lower the eggs into the pan and cook for 4 minutes, or until golden, turning them every so often.

Remove with a spoon and drain on kitchen paper (if you're worried about the meat being under-cooked, deep-fry the scotch eggs until they're golden and crispy, then pop them in a hot oven for a couple of minutes.)
I'm linking to CookBlogShare
Reference: