The 'come-back-kid'
SERVES: 2
PREP TIME: 5 mins
COOKING TIME: 10 mins
DIFFICULTY: easy
IDEAL FOR: special occasion, a bit of fun, midweek meal
BUDGET: ££
Why??
I've always thought Surf n' Turf was a bit of an odd one.
Why would you mix two very different and decadent ingredients together?
Surely, they should stand alone and be enjoyed on separate occasions?
And to be honest, when I've tried it at a restaurant, it's always been a bit disappointing.
But then…
The other week, our neighbour, who is a fisherman, told us he was bringing in some lobster.
Obviously, we said YES PLEASE!
But I had already planned to have an amazing piece of steak for dinner.
So, throwing all my Surf n' Turf biases and food snobbery to the wind, I decided to cook up the famous double act.
And I wasn't disappointed… I was surprised!
But the key was definitely buying quality produce… fresh lobster and locally sourced beef.
Where did 'surf n' turf' come from?
America.
There's a bit of debate about whether it originated from the East or West Coast.
But it was in the 1960s that restaurants began pairing filet mignon with seafood.
The West Coast fans claim a restaurant at the top of the Seattle Space Needle was the origin.
But the East Coast believers, say the first was a Champagne Surf 'N Turf Dinner featuring filet mignon and baked stuffed Alaskan Crab Legs.
There was also a campaign to encourage people to buy local lobster rather than imported lobster tails from South Africa.
Whoever kicked started it off, there is no doubt that Surf n' Turf was a hit!
Affordable
By combining filet mignon with lobster tail, you could actually get an affordable meal for that 'special occasion'.
And it caught on and in the 1960s and '70s.
Surf n' Turf was in vogue with the middle-class restaurants.
Then, came along the 1990s.
And the yuppies started eating nouvelle cuisine (thank goodness that didn't last all we'd all be starving and skint).
But sadly, Surf n' Turf's popularity started to fade.
Surf n' Turf's come back
Yes, I'm resurrecting it!
But in this recipe, I'm switching out lobster for juicy shrimps (*we were lucky to have local lobster the other week)
And I'll keep repeating it…
The key is fresh produce.
And locally sourced.
You don't want to find out your seafood has been frozen on a plane for days on end from South Africa.
And yes, I know most people don't have a fisherman on their street.
But I lived in London for 20 years and these days you can get great fresh seafood from some amazing fishmongers.
So, maybe when you have a special occasion or want to treat yourself or have a little 70s throw-back…
Give this a go, you won't be disappointed.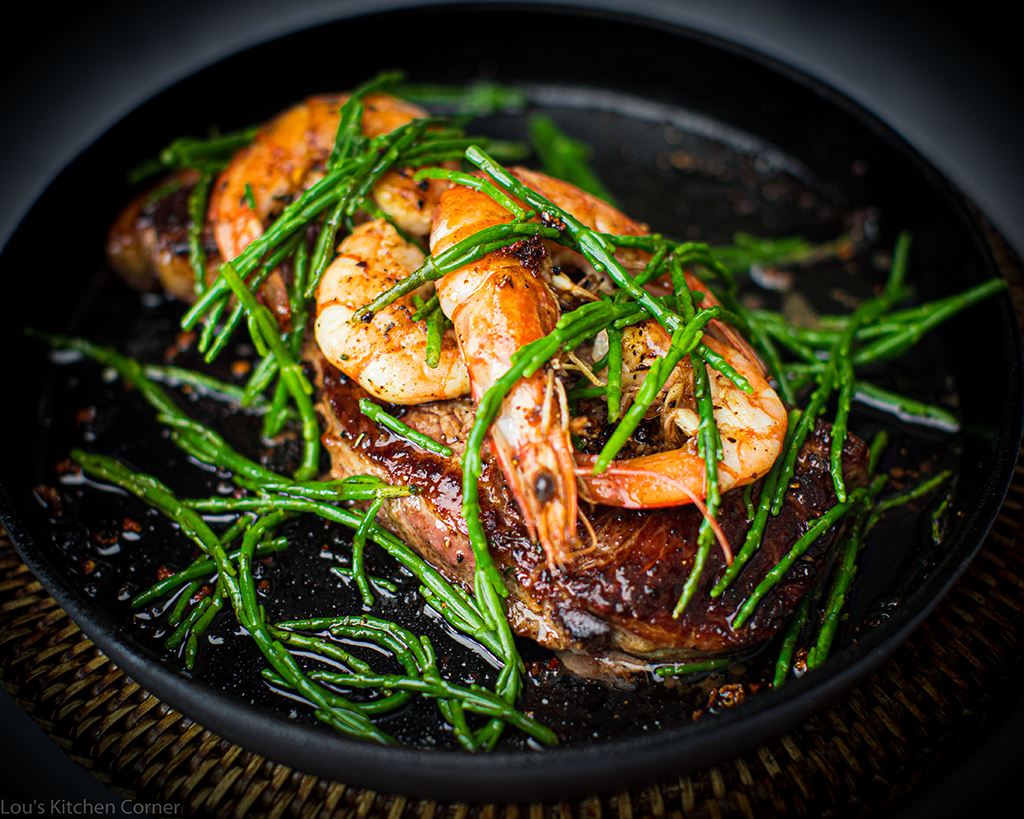 Do you have a favourite seafood to match with beef? Drop me a comment…
Surf n' turf
The 70s classic is back! Using the best steak and fresh seafood, surf n' turf is simple and delicious.
Ingredients
2 x 250

g

steak

I used sirloin, approx 250g each

2

garlic cloves, minced

2

tbsp

olive oil

4

tbsp

butter

1

tsp

chilli flakes

Optional

2

tbsp

chopped parsley

6

large shrimp, peeled and deveined – leave tails on for presentation 

1

handful of samphire

Optional
Instructions
Pat your steaks with a paper handtowel to remove any extra moisture.

Place your non-stick frying pan or skillet onto medium-high heat. Season your steaks with salt and pepper just before places them into the pan.

Cook for approx 5 – 7 mins on each side (depending on your preference and size of steak). Then remove to a plate, cover and let rest.

In the same pan (you may need to carefully mop up some fat if there's too much) gently place your shrimp in and cook until they turn pink – approx 1 – 3 min each side. Then remove.

Again, in the same pan (but make sure the pan isn't too hot otherwise the garlic will burn), add the oil, butter, garlic and chopped parsley (and chilli flakes if you want) until melted and mixed all together – approx 1 min.

Now, arrange your steak on a plate with the shrimps on top and pour over the garlic and butter sauce.

*if you have samphire, quickly blanche in a pan of hot water – approx 1-2 mins – and scatter over the plate. NB: samphire is salty so you don't need to add any salt to the dish)