Simple, refreshing mid-week meal
SERVES: 4
PREP TIME: 5 mins
COOKING TIME: 15 mins
DIFFICULTY: easy
IDEAL FOR: family, midweek meals
BUDGET: £
The Full Moon party
That was my introduction to Thailand.
Not bad you might say, if not a little skewed in learning about the Thai culture.
True. But man, it was fun.
And it was also back early 1999, when the internet was still 'dial-up' and no-one had mobiles.
Which meant the only way you knew where to go and what to do as a backpacker was either the Lonely Planet guide (aka The Bible) or word-of-mouth.
So after a year of travel and weird odd jobs around Australia – cauliflower cutting, asparagus packing, boat cleaning – I ended up in Sydney.
Where I become a waitress in a new event centre in Darling Harbour with a bunch of (mainly) Brit backpackers.
And where we worked incredibly long and hard days and any spare time we had, we partied just as long and hard.
But they were brilliant times and I gained one of my, now, oldest and best mates from this experience.
However, it was myself and my friend Ali who decided to hit the South East Asian backpacker trail together and one plan was to find this talked about Full Moon party hidden on the island of Koh Phangan.
An aside…
Ali and I spent around 5 months backpacking around SE Asia and India, then we landed in London (broke), found work and flats in London and after a year drifted off on our different paths.
Again, this is pre-Facebook and pre-cheap mobiles so maintaining contact was much harder than it is today.
But, the coolest thing EVER happened recently…
After 20 years!! (yes, it's a long time and made us both feel old) we literally bumped into each other outside Farringdon Station last September rushing to our separate appointments.
I called out, Ali stopped in his tracks and we diverted from our plans to grab a pint, have a giggle and swap numbers.
So we're back in touch!
How cool is that?!
Koh Phangan (& Ali and I) may have changed but Thai flavours have not
I know it's typical to say this but, from what I can see about the Full Moon party these days, it's changed a lot.
They now have 20 000 – 30 000 people visit every full moon, packaged tours and an entrance fee to the beach.
When we landed here, it was more like an adventure to find this beach and only a couple of thousand people were there to enjoy it.
It was super chilled and everyone visiting was a skint backpacker, just hanging out enjoying the chilled atmosphere, meeting new people from around the world and eating amazing, flavoursome, cheap thai food.
This was my first true introduction to Thai food – Pad Thai, Tom Yum soup, Banana Pancakes!…
4 flavours of Thai cooking
Thai food cooking can be thought of as difficult due to the careful balancing of it's flavours and spices.
There are four key flavours that are the basis of Thai cooking — sweet, sour, spicy and salty.
And the trick is to achieve the correct balance.
Examples of the 4 flavours used:
Sweet – palm sugar
Sour – lime juice, lemongrass, tamarind
Spicy – chilli pepper, peppercorns, ginger
Salty – fish sauce, soy sauce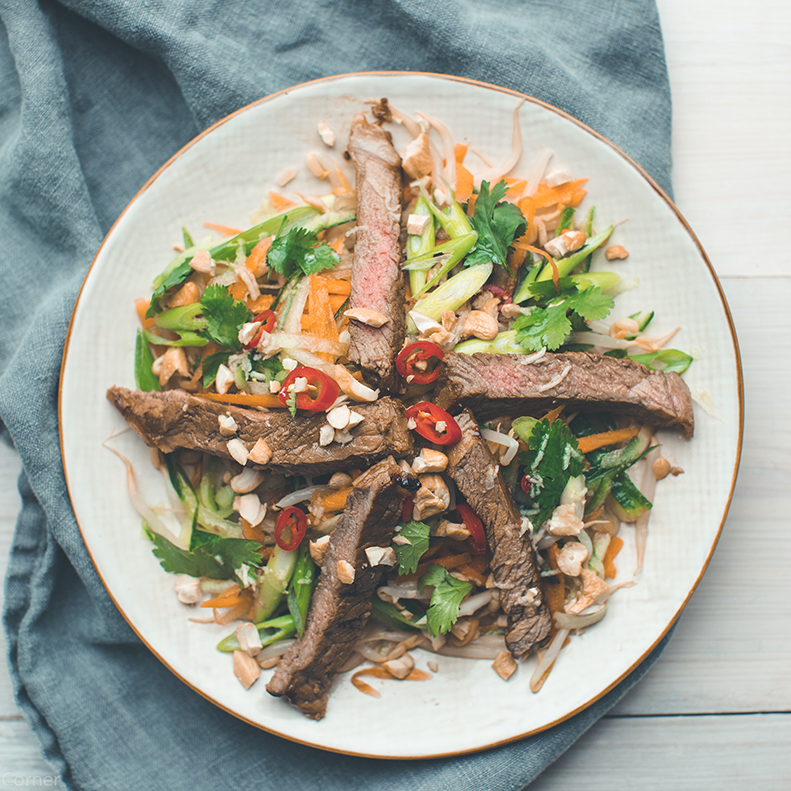 Spicy Thai beef salad
So, having eaten lots of Thai food from the pros but never really ventured into cooking Thai, this week I gave Thai Beef Salad a nudge.
It's simple enough to not get overwhelmed by ingredients, it's quick to make (big bonus) and it tastes fresh and zingy.
And hopefully will give you the confidence to try more Thai or Asian influenced cooking such as Pork Udon Soup.
Oh and by the way, I often boil up some noodles as a side for those extra hungry teenagers. Check out my Noodle guide if you want some ideas.
Got any tips for Thai cooking? Drop me a line.
Spicy Thai Beef Salad
Ingredients
250

g

egg noodles

Optional. I do this as a side for hungry growing teenagers

4

minute steaks, sliced thinly

(locally sourced where possible)
Steak marinade
2

tsp

fish sauce

2

tbsp

ginger, grated

2

tbsp

light soy sauce

1

tbsp

rice vinegar

2

tsp

brown sugar

2

tbsp

oil
Dressing
1

juice of lime

2

tsp

fish sauce

1

tsp

brown sugar

1

clove of garlic, crushed or grated
Salad
handful of mint, chopped

1

carrot, grated

1

cucumber, grated

400

g

bean sprouts

handful of peanuts, crushed

1

red chilli chopped

half a handful of coriander, chopped
Instructions
Steak marinade: In a wide bowl, mix the fish sauce, ginger, garlic, soy and rice vinegar with the 2 tsp of brown sugar.

Place the steaks in and leave to marinade for approx 20 minutes or while you are doing the other prep.

Optional noodles: Cook noodles as per packet instructions. Then set aside.

Salad prep: Into a bowl, grate your cucumber and carrot and add the mint and bean sprouts.

Dressing prep: In a cup or small jug, add the lime juice, garlic, fish sauce and brown sugar and mix well. Taste and make any adjustments if needed.

Now, in a frying pan, on a high heat, add some oil and cook the steaks for a couple of minutes on each side (depending on how thick your steaks are).

Sprinkle a little sea salt over them and leave to rest.

After 10 minutes, slice the beef into thin slices and add to the salad bowl. Mix all the salad ingredients and beef with the dressing.

Serve in individual bowls or on a large platter. Sprinkle some coriander over and some sliced red chilli

Optional noodles: if serving these as well, cut the noodles so they are shorter and then lightly fry in the pan and serve in a bowl for everyone to help themselves to.
I'm linking this to CookBlogShare