Tips to success
I love a crispy-base-Italian style pizza.
I love good a old margarita
Or for meat lovers, I go for something with prosciutto, chorizo or pancetta.
I'm also lucky enough to have a wood oven but although brilliant, it's definitely a bit of a labour of love.
Fear not, you don't need a wood oven to make your own amazing homemade pizza.
But if you want to make them more than the odd occasion, it's probably worth buying pizza stone for your oven.
This helps achieve that crisp base.
But otherwise, a flat baking tray is absolutely fine.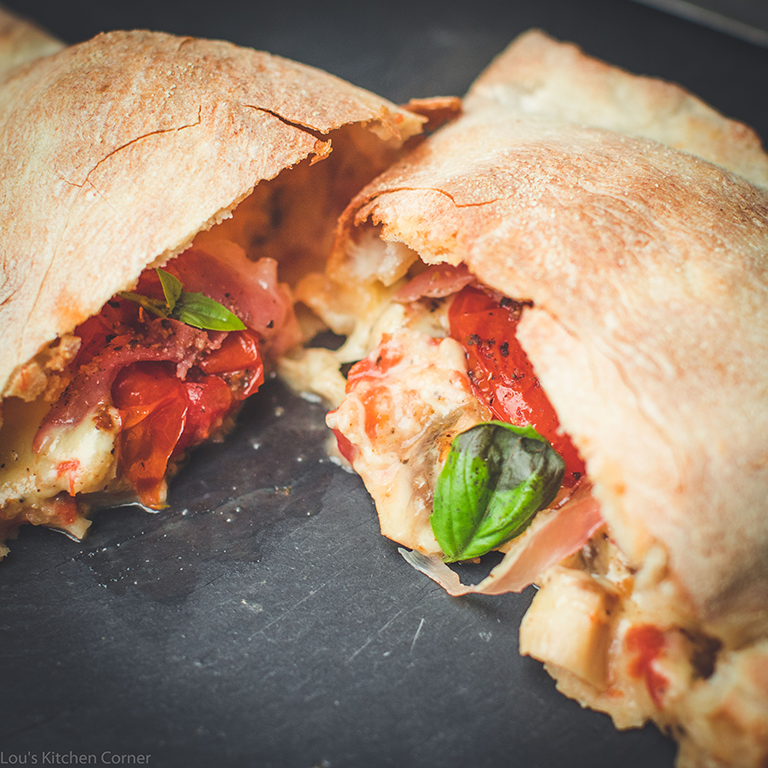 Yeast
It's important to know your yeasts so you get the right one for the job.
Yeast works when mixed with warm water, sugar and flour.
It makes the yeast produce carbon dioxide, which causes the dough to rise.
There are three types of yeast you should know:
1. Fresh yeast (also known as cake or compressed yeast)
A firm, moist cream-coloured block.
Store in the fridge and only keep it for a few days, maximum a week.
2. Dried yeast (or Active dried yeast)
Probably the most common found in supermarkets
This comes in small granules that are brought back to 'life' with warm water and sugar.
Refrigerate after opening so the yeast stays fresh and active.
Powdered dried yeast (or 'easy', 'fast-action', rapid-rise or quick-rise)
Sold in sachets and just sprinkle straight into a bowl of flour.
Substitution quantities
You can switch out different yeasts if you can't find the right one or have leftover in the cupboard.
But they vary in their quantities needed when following a recipe, so here's a little guide.
| | | |
| --- | --- | --- |
| Fresh Yeast | Dried Yeast | Quick Yeast |
| 3g | 1.5g | 1g |
| 6g | 3g | 2g |
| 10g | 4g | 3g |
| 12g | 6g | 4g |
| 17g | 7g | 5g |
Top tips when cooking your pizza
Extreme heat: If you're using a conventional oven, the same goes and make sure the pizza hot plate is piping hot or you'll have a 'Great-British-Bake-Off-soggy-bottom' and no one likes a soggy bottom whatever the context.
Toppings go on sparingly. Kids and friends want to pile on the sauce and the meat lovers go crazy but less really is more. Trust me on this one.
Use semolina to sprinkle onto the tray before you place your pizza on the tray – or you can add it into the dough as well. It helps it come off easily.
Timings: It's a good idea to roll the pizzas out about 15 to 20 minutes before you want to cook them. But don't roll them out and leave them hanging around for a few hours – if you are working in advance it's better to leave your dough, covered with clingfilm, in the fridge.
Topping ideas
Make them up!
But, when you're spreading your tomato sauce, use it sparingly. A common mistake is overloading your pizza with sauce and toppings.
Here are a few topping ideas to start you off:
Tomato sauce, proscuitto, cheddar cheese, mozzarella, sliced pear, rocket, creme fraiche
Tomato sauce, salami, cheddar, mushroom, rocket
Smoked pancetta, mozzarella, fresh chilli and tomatoes
Making pizza dough
Pizza dough recipe from Jamie Oliver
Ingredients
Dough
800

g

strong white bread flour or Italian Tipo '00' flour

200

g

fine ground semolina flour

1

tsp

level tsp fine sea salt

2 x 7

g

sachets of dried yeast

1

tbsp

golden caster sugar
Instructions
In a large bowl, add all the strong white flour and semolina flour and 1 level tsp of sea salt and make a well in the centre.

Add the yeast and sugar to 650ml lukewarm water, mix together and leave for a few minutes, then pour into the well.

Use a fork and slowly bring in the flour from the inner edge of the well and mix into the water.

When the dough comes together and is too hard to mix with your fork, flour your hands and begin to pat it into a ball.

Kneading by machine: You can do the easy way and get your mixer with a dough hook knead it for 10mins

Kneading by hand: Knead the dough by rolling it backwards and forwards, using your hands to stretch, pull and push the dough. Keep kneading for 10 minutes, or until you have a smooth, springy, soft dough.

Once done, place the dough in a lightly greased bowl, cover with clingfilm or a towel and leave in a warm place to prove for 45 minutes, or until doubled in size.

Knocking back: Remove the dough to a flour-dusted surface and knead it around a bit to push the air out with your hands.

**You can either use it immediately, or keep it, wrapped in clingfilm, in the fridge (or freezer) until require **.

Now, divide the dough up into small balls (approx 200g) to make about six to eight medium pizzas.

Roll the pizzas out about 15 to 20 minutes before you want to cook them. Don't roll them out and leave them hanging around for a few hours, though – if you are working in advance like this it's better to leave your dough, covered with clingfilm, in the fridge.

Oven temperature: Preheat the oven to 250°C/500°F/gas 9 or as hot as it can go!

As mentioned in my blog, a pizza stone is great to use (if you're going to do this often). Otherwise, cook them one by one on pieces of tin foil directly on the bars of the oven shelf, towards the bottom of the oven.

Cook for 7 to 10 minutes, until the pizzas are golden and crispy.

Toppings: Make them up! But, when are using the Passata sauce, yse it sparingly. A common mistake is overloading your pizza with sauce and toppings.

Here's a few ideas:

Tomato sauce, proscuitto, cheddar cheese, mozzerella, sliced pear, rocket, creme fraiche

Tomato sauce, salami, cheddar, mushroom, rocket

Smoked pancetta, mozzarella, fresh chilli and tomatoes