A great dish for hungry mouths
Cannelloni with sausage ragu and ricotta is an Italian classic and worth a go.
PREP TIME: 20 mins
COOKING TIME: 40 mins – 1hr
DIFFICULTY: not too tricky
IDEAL FOR: midweek meal, crowd-please, family
BUDGET: £
WINE PAIRING TIP: Suzie (Michael Sutton's Cellar) has lined me up with another two great bottles of red.
Wente Cabernet Sauvignon is a wonderfully full-bodied warming cabernet with rich blackberry & fig flavours and perfect for rich slow-cooked meats… and cannelloni.
If want some a bit more on budget (£9), check out this Jean Curial Cabernet Sauvignon. It's great value and has a good cassis nose, rich ripe flavour and balanced tannins.
Cannelloni – not to be confused
If you like lasagne, then you'll like cannelloni.
Not to be confused with cannoli (a Sicilian pastry).
And if you've ever watched The Soprano's you'll know them well.
Or Cannellini beans.
Also, Italian but definitely not a pasta dish.
Oh, you may see the word, 'manicotti'.
That's what the American's call it.
Right, we've cleared that up.
Cannelloni with sausage ragu and ricotta
I like a simple dish.
And I like a challenging dish from time to time.
I would say this isn't exactly challenging.
But it's also not the simplest dish I've ever made.
And the reason…
It's the piping of the cannelloni tubes.
You really can't make this unless you have a piping bag.
(which I went off and bought – they're very cheap, btw).
So, there is a little bit of faffing involved.
But like any new recipe I try, once I've figured out the process, it becomes easier the next time I do it.
So, I would recommend giving this dish a go.
It feeds a household.
It looks great.
And tastes delicious.
But, if you want slightly simpler to put together, then check out my 'cheats lasagne'.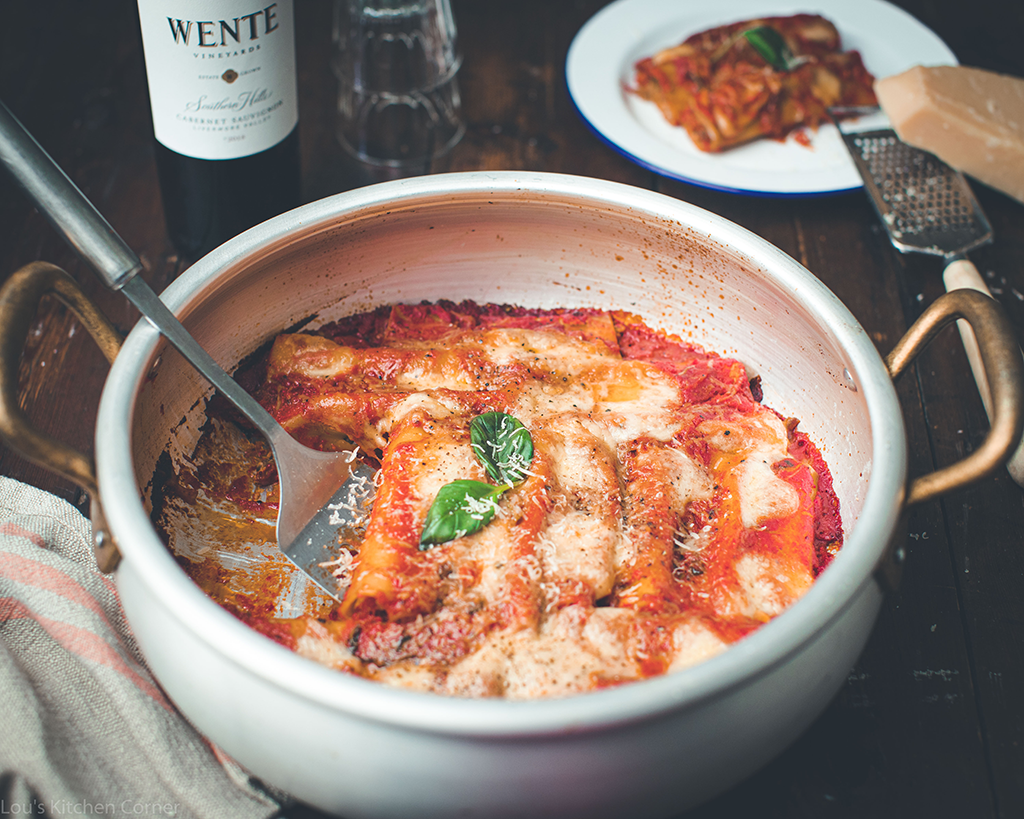 Cannelloni origin
I always like to do a little food research to understand its origins.
And any little interesting stories that go alongside.
The story of cannelloni begins with Antonino Ercolano.
A seminarian who learnt how to cook in the kitchen of the local archbishop's palace.
In 1868 Antonino founded a restaurant called, 'La Favorita' – The Favourite.
Which, just to confuse things ended up with two names.
'O Parrucchiano, La Favorita.'
Antonino was nicknamed 'O Parrucchiano' by the locals.
Which means 'parish priest' in Neapolitan dialect in a nod to his earlier days.
(Although he never actually became a priest).
You can still find La Favorita busy with customers in Sorrento.
Happily eating their famous cannelloni.
Cannelloni invention
It was here, at O Parrucchiano, La Favorita, that cannelloni were invented
In 1907, a Neapolitan chef Nicola Federico, came up with strascinati*.
(*which mean pulled pasta – they were small macaroni shaped pasta).
Strascinati, later renamed cannelloni, gained popularity during WWII.
People would come from all over to Sorrento to the restaurant to eat and escape the bombings.
How to cook cannelloni
As I mentioned, I like pretty hassle-free dishes.
So, there's no way I'm making fresh pasta for this.
I wouldn't know where to start for one reason.
And dried pasta is just as good.
Although I'd recommend going for some quality dried pasta.
Look for brands that come from Italy, especially from the region of Campania.
So for this recipe I'm sharing, you simply fill the tubes and bake them.
The key when baking, is to have sauce on the bottom and sauce on the top.
This cooks the pasta and the sauce absorbs into it as well.
What fillings?
Pretty much anything!
Anything meat and ricotta-based with a tomato sauce, is a good start.
You can also do vegetables fillings like spinach and ricotta.
These not much stopping you on fillings.
Here are a few ideas:
Meats (beef, pork, veal)
Cheeses (ricotta, mozzarella, parmesan)
Vegetables
Sauces (tomato sauce, tomato passatta, béchamel sauce, cream sauces)
Herbs (parsley, rosemary, basil, bay leaves)
Apples
Walnuts
Cannelloni with sausage ragu and ricotta
Ingredients
500

g

dried cannelloni tubes

(you can find online if not in a supermarket)

250

g

mozzarella, cut into little chunks to dot on the top at the end
Filling
400g

Italian sausages, skins removed and sausage meat finely chopped

(or use any sausage with some nice flavour like fennel). Nb: it's important to cut the sausage meat quite finely as it needs to be piped.

1

onion, chopped finely

2

sticks of celery, chopped finely

4

sage leaves, chopped

100

ml

red wine

400

g

ricotta

1

egg, beaten

100

g

fresh or dried breadcrumbs
Sauce
4

tbsp

olive oil

1

garlic cloved, thinly chopped

4

basil leaves

600

g

passata

(use tinned tomatoes & add some garlic & herbs if you do'nt have passata)

salt and pepper for seasoning
Instructions
In a hot frying pan, place the broken up sausage meat and cook until it goes a little brown and the fat renders. Then remove and set to the side.

In the same pan (with any fat from the sausages), add the celery, onion, sage and cook until softened – approx 3mins.

Next, add the red wine and reduce it by half before returning the sausage meat to the pan and cooking for approx 10mins or until the liquid is a little syrupy.

Take off the heat and cool a little, then add the ricotta, 1/2 of the parmesan, the beaten egg, and the breadcrumbs and mix well. Season to taste.
Sauce
In a saucepan, add 3 tbsp of olive oil, garlic and basil and cook for a minute before adding the passata and cooking for approx 10mins on medium heat with a lid half on. Season with salt and pepper.

(You don't want it to go too thick as the pasta cooks in the sauce).
Filling the cannelloni
Preheat the oven to 180C/160C fan.

Take a piping bag and cut the bottom to approx 2 cm so the mixture can squeeze out.

Place the sausage mixture into a piping bag and gently squeeze the mixture into each tube ensuring they are nice and full.

In an ovenproof dish, light;y oil the surface before spooning some of the sauce into the dish – approx 1 cm.

Lay the filled cannelloni on top and then spoon the rest of the sauce over the top.

Scatter the mozzarella and remaining parmesan over the top, cover the dish with foil, making sure to seal all the way around the edge.

Bake in the oven for 30 minutes, then remove the foil and cook for a further 10 minutes.

Let it cool for a few minutes before serving. Add some more parmesan and some cracked pepper.
Reference