My favourite recipes to whip up when there's fun to be had
It's been a year!!
The whole world has been stuck in limbo, groundhog day and unfortunately for some, sadness.
The economy has been hit hard and for some industries like hospitality and retail, it's been a matter of survival.
And then there are the people on the 'frontline', the doctors and nurses who have seen more than they probably wanted to with this horrid virus.
The shopkeepers and delivery people, who have kept us all sane and feeling a little 'normal'.
So, this New Years Eve, 2020, is probably more about celebrating the year is over.
That we got through it.
And that even though it was tough, there were some moments of joy and togetherness.
We have vaccinations being rolled out so the light at the end of the tunnel is becoming brighter.
NYE 2020
We'll have to celebrate just within our little bubbles.
So, in our household, we aren't going to fuss.
But instead, we'll cook up some great, tasty food, that means we can all relax and enjoy saying goodbye to 2020.
And HELLO 2021!!
HAPPY NEW YEAR!
Let's make it an epic year of fun, friends, family and great food!
1. Tim's sensational sticky ribs recipe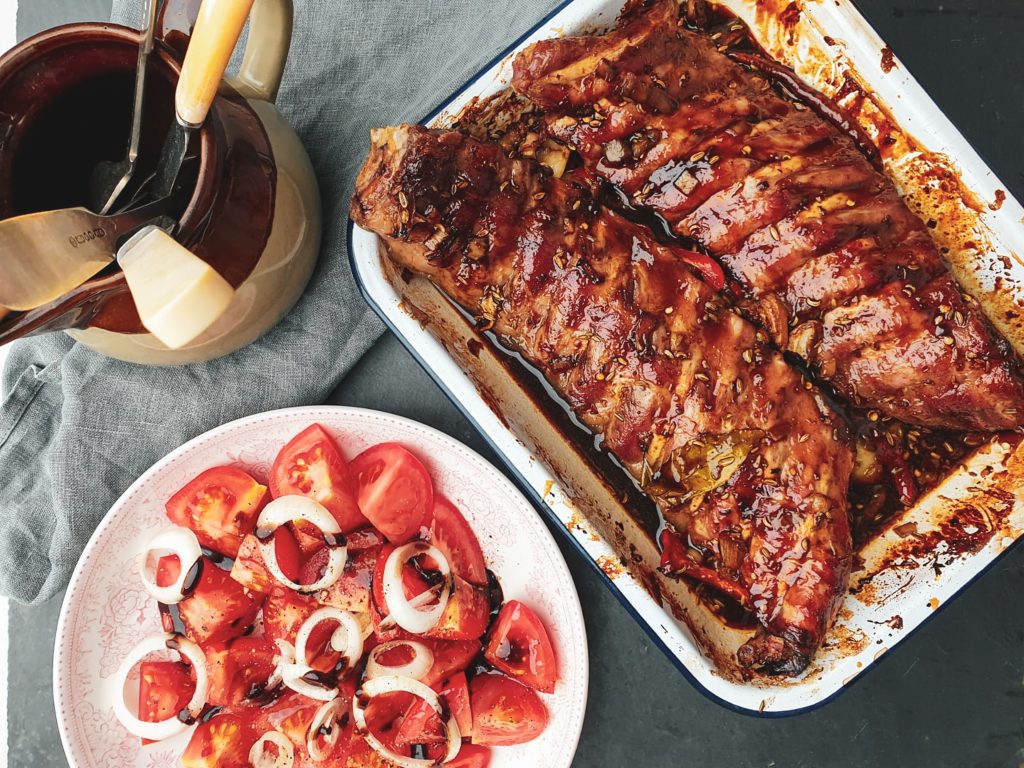 Tim's sensational sticky ribs recipe
Ingredients
2

racks of pork ribs

1/2

cup

water

1

bay leaf

1

onion, chopped
Glaze
2

bottles of Hoison sauce

4

tbsp

honey or maple syrup

2

tbsp

chilli flakes (or to your own taste)

2

tsp

grated ginger

1

cup

water
Instructions
Cooking the ribs
In a roasting dish, add your ribs and /2 cup water (or enough to cover the bottom of the dish with water i.e. to create steam)

Add in the chopped onion and bay leaf and cook on 100C for 3 hours to make tender
Glaze
Once the ribs are nice and tender, take out while you make the glaze.

In a bowl mix all the glaze ingredients and then using a spoon or brush, cover liberally both sides of the cooked ribs.

Pop back into the oven, turn up to 180C and cook for approx 30 mins or until they look lovely and sticky.

Serve with lots of napkins! And a fresh tomato salad.
2. Beef massaman curry
The easiest curry you'll make!
Beef Massaman Curry
Ingredients
2 1/2

tsp

tamarind paste

25

g

palm sugar or light brown sugar

500

ml

hot water (boiled from your kettle)

1 x 400

ml

can of coconut milk

1/2

cup

massaman curry paste (or to taste)

(or 125ml/140g)

1

tsp

sea salt flakes

1

kg

beef chuck

cut into small cubes approx 5cm

750

g

waxy potatoes

you can peel but I don't

1

bunch

basil or coriander to serve
Instructions
Preheat oven to 170C/ gas mark 3.

Add tamarind paste and the sugar into a measuring jug then add the boiling water to reach 250ml. Stir to help dissolve the paste and sugar.

In a large casserole with a lid add just the cream that sits at the top of the coconut milk can. Then add the massaman curry paste, stirring every now and again, until bubbling – don't worry if it separate's a little.

Next, to the casserole add the contents of the jug (water, tamarind and sugar). Then add the rest of the coconut milk and the tsp of salt and stir it well. Finally add in the beef and the potatoes – make sure you've cut them into small chunks the same as the beef.

With the beef and potato now stirred in, allow it all to come to a bubble. As soon as it does, place the lid on the casserole and turn off the heat and transfer to the oven to cook for 2.5 hours or until the meat and potatoes are tender.

Serve with a sprinkle of coriander or thai basil alongside some poppadoms and naan or whip up some rice and enjoy!
Advance cooking without the potatoes
If you do this recipe in advance, leave the potatoes out so you cook them on the day.

You can store the curry in the fridge for 1- 3 days (but make sure you let it cool first before putting in the fridge after cooking)

Then 30mins before you want to eat your curry, preheat the oven to 200C/gas mark 6.

Add the potato chunks to the pot of curry and place on the hob, add 250ml of boiling water and bring to a bubble.

Place the lid on and into the oven for 30 minutes, or until the curry is bubbling and the potatoes are tender.

Serve as above.
Important
The curry should be reheated once only. If you serve with rice and have leftovers it is possible to use again (but only reheat once).

To ensure you don't get food poisoning (and I've had it from rice, believe me it's not fun):

• Cool the rice as quickly as possible (ideally within 1 hour).

• Keep rice in the fridge for no more than 1 day until reheating.

• Ensure the dish is steaming hot all the way through.

• Do not reheat rice more than once.

Remember: never reheat if you didn't store immediately in fridge
Freezing Tips
Freeze cooled curry in an airtight container for up to 3 months, defrost overnight in fridge before reheating as per recipe, above.
3. French onion, pigs-in-blankets casserole
Perfect for winter warmer for NYE.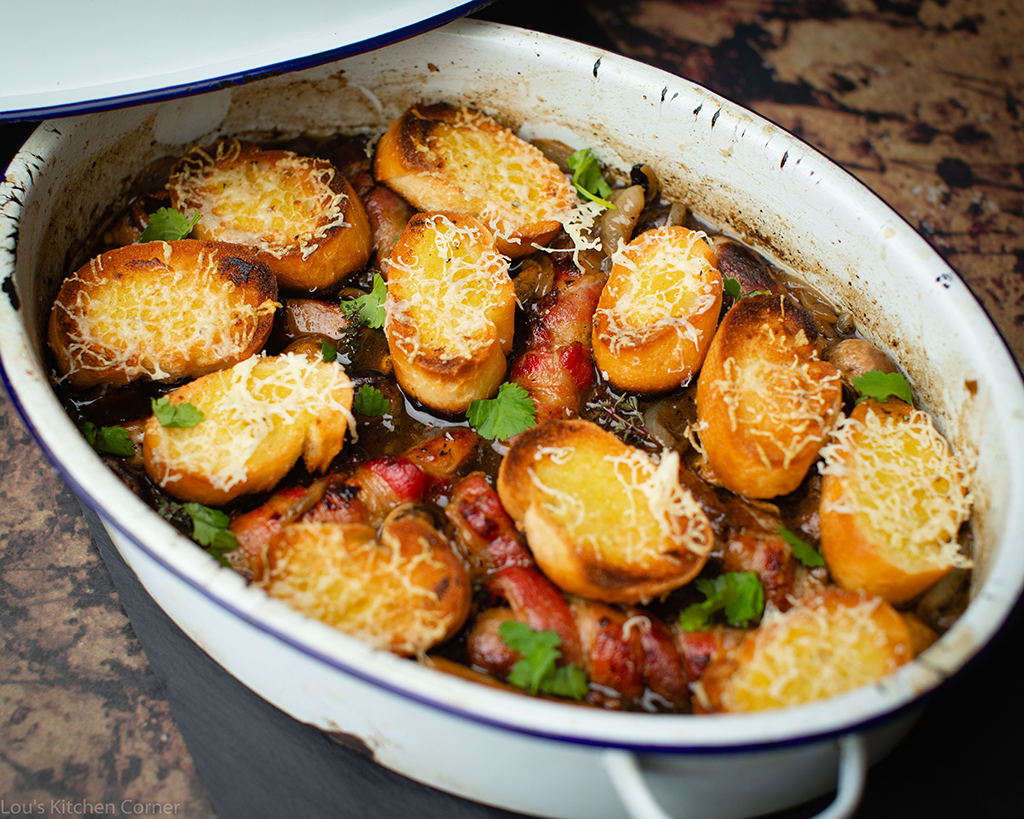 French onion, pigs-in-blankets casserole
Ingredients
8

chipolate sausages

6

medium to large onions, sliced

8

rashers of streaky bacon (or 4 – halve and stretch)

splash of olive oil

25

g

butter

4

sprigs of thyme

salt and pepper to season

1

tbsp

plain flour

500

ml

beef stock

splash of red wine vinegar or sherry vinegar

1

baguette, sliced

English mustard to spread on baguette slices

grated cheese to sprinke & melt over baguette slices

250

g

button mushrooms

(optional)

2

garlic colves, sliced
Instructions
Wrap your sausages with the bacon and pop into a non-stick casserole dish with a little oil.

Cook until nice and brown all over – approx 6 mins.

Once done, take out and set aside.

Next, add the butter (and maybe a little extra oil) into the same casserole dish and then add in your sliced onions. Season with salt and pepper.

Sweat the onions until nice and soft, then add the garlic and mushrooms. Keep stirring from time to time until the onions have become caramalised and brown (not burnt) – approx 15 mins.

Now, stir in the flour. Add in a splash of red wine vinegar, stock and thyme, stir, pop your pigs in blankets back in, and leave on the stovetop gently for 20 mins.

While this is cooks, melt some butter in a pan and brush lightly onto both sides of the bread slices. Then spread a little mustard on one side.

Pop under the grill and toast each side. Then sprinkle grated cheese and pop back under until nice and melted.

To serve, place the cheesy croutons into the casserole and watch your family devour!
I'm sharing this with CookBlogShare